Cheer Squad Back for 2020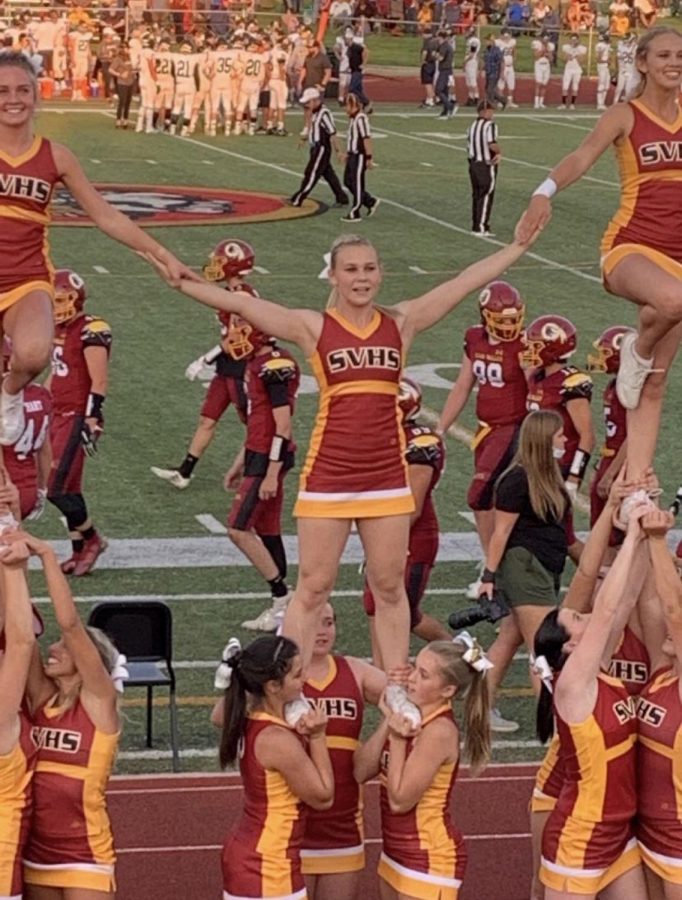 WE'VE GOT SPIRT YES WE DO, WE'VE GOT SPIRT HOW ABOUT YOU? Even through the coronavirus, we still got our spirit and the cheer team has got us back in the sports groove.
Although the cheer team is back in front of fans where they belong, they have had a rough few months with coronavirus. Only able to see each other on Zoom from March to July, the squad has had a hard time practicing the cheers.
Coach Philpott explained that Covid-19 has affected her team's stunts the most. "We usually have been stunting for 3 months, but this year we've only had 4 days. They learn fast and are already level 2-3 on stunts," said Philpott.
In early March the cheerleaders woke up at 8am for Zoom to go over cheers to meet and get to know each other. Starting in July they were able to have some 6:50 a.m. practices on the field, by with not a lot of contact. The cheer captains and the rest of the cheer squad felt glad they were finally able to have actual practice and perform stunts.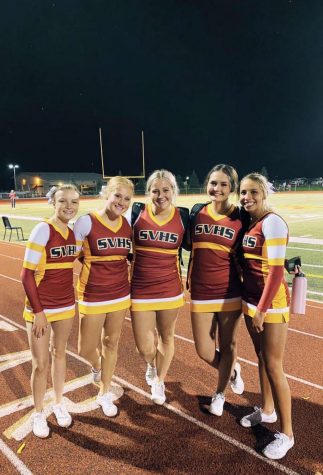 During their separation, each girl individual had to record herself doing a cheer and send it to the coach for grading. If not perfect, they had do it again and possibly again until they got it perfect. "It's really not too bad. I hate filming myself but it's good that Coach wants us to be perfect. It makes us a better team," said cheerleader Emree Erickson.
During the difficult transition from quarantine to practice, the captains had to shoulder more responsibility and play a big role in making the team better. Their main goal is to bring the team together and make it a whole by, among other things, making sure the girls wear the right things, show up on time, and create as little drama as possible. Cheer captain Kezlie Jenkins said, "I love being a cheer captain and teaching the younger grades. It's been the best 4 years with cheer."
What is sports without the cheerleaders? Just imagine how quiet or awkward it would be without them. "I think cheerleaders are a big part to the super fans and also just to the crowd itself. They get everyone involved and loud," said junior Elle Erickson.
Coach Philpott said,  "The best thing about this year is how many girls we have. 20 varsity and 16 jv make us very loud, which also makes the student section and the crowd involvement even better."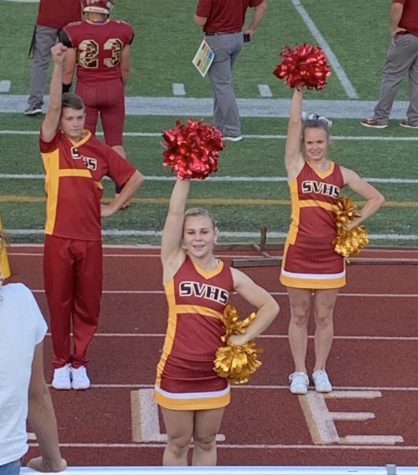 Everybody loves to look back on their favorite memories, for the girls on the cheer squad, most of their best ones are on the cheer team. The best thing about a team or a squad is the family connections made. Cheer caption Victoria Trefren said, "I love the family bond it creates throughout the rest of high school. Although there is a lot of drama sometimes, all in all its so fun."
Daxton Sessions is a rare male addition to the squad. "I did gymnastics for a long time, so I decided to try it and I love it. My favorite trick is my backflip." He also likes being with all girls and wants to continue doing cheer for all 4 years of high school.
The super fan section always needs more bodies supporting our cheerleaders and showing them how much we appreciate their hard work for our school and our teams. GO BRAVES!