"Zooming" Toward the End of the School Year
Virtual Meeting Software Provides Alternative to Meeting in Person.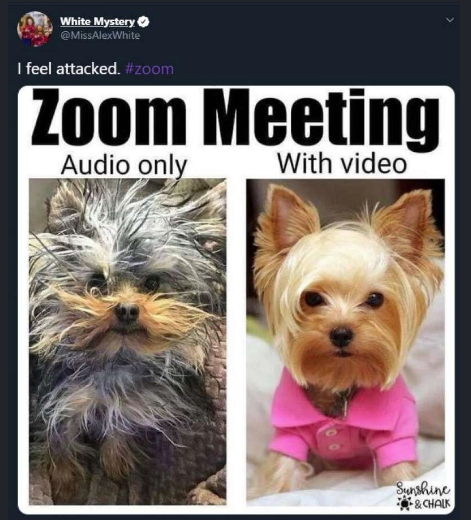 Since the coronavirus crisis started, Eric Yuan, one of the main shareholders for Zoom, has seen his estimated net worth increase by more than $4 billion! This is not surprising considering that the number of daily-use members of Zoom has increased 340%. Many high schools around the world have started using Zoom to replace the classroom, and although hasn't had a ton of use at SVHS, it has still been a part of students' lives these past few weeks.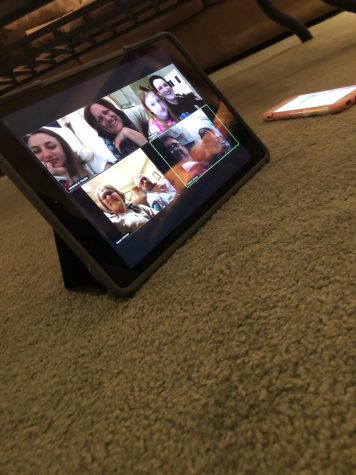 Some students are using Zoom for personal communication to get together with their friends. Riley Heward has used her free account for a variety of situations. "I have used [Zoom] for contacting my teachers, church ,and friends. I used it to get together with a group of my friends, so we could talk, and I have just recently used it for doing a meeting with my college coach and advisors," said Heward.
Similarly, Hannah Christie uses Zoom to stay connected with her family. "I like having face-to-face interaction!" said Christie.
So far, there have only been a few classes that students are using the Zoom app for. If you have history with Ms. Stauffer, are part of Singcopation, or attend seminary, you might have some experience with it. There have been mixed feelings in response.
In general, most of the students using Zoom are happy with it and are glad to have it. Christie, who considers herself not very up to date with technology, said that she found Zoom very easy to use. Kaylee Hale, who uses Zoom with Singcopation, said, "In Singco we don't sing together on Zoom; we just talk about the expectations we have for each other for the week. Everything has worked just great! It's fun to all be in the same conversations. Glad we have these resources in crummy situations."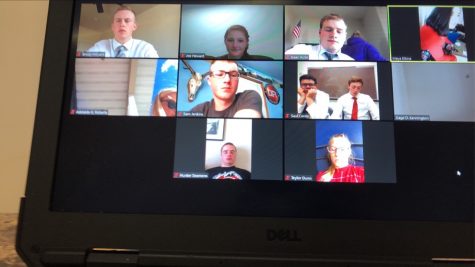 Heward also had good things to say about Zoom. "I think Zoom has worked the best out of all the apps I have tried."
Mia Hutchinson has attended a couple of Zoom meetings with her World History class and was impressed with how well the whole thing worked. "I think it works pretty well for our class, especially since it is our first time using it. In general, I think everything about it is useful. I especially like how you can change your background!" said Hutchinson.
Stauffer uses Zoom to meet with her World History and Government students once a week. When asked if she would recommend using Zoom to other teachers, she said, "Yes! I believe that talking real time with students is helpful for all of us. I have students get on meetings and not interact, but tell me they are simply grateful to hear their peers. There are enough students that do ask questions, that it is helpful for all."
While Zoom hasn't been used extensively yet at our school, some students might not mind it. "I believe having a Zoom conference with each of our classes once a week would help ease anxiety and stress, just knowing there's a face behind a computer giving us all these assignments to work on during this quarantine," said Christie.
Despite many liking the Zoom option, there is also some negative feedback. Zoom gives users the option to mute video and audio, showing just avatar outline instead of a live video. Many people wish that they could see each other's faces when they do school related Zoom meetings. Kaylee Hale lamented that she misses her friends and classmates, and that being able to see their faces would be way more fun.
"I don't have many frustrations with the technology. What I am frustrated with is that people (not necessarily in our district but in other schools) have abused this option, so that I cannot allow students to have their cameras on," said Stauffer.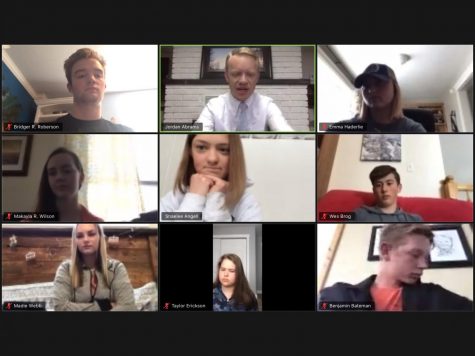 Bridger Roberson has used Zoom for his seminary class and also as part of Singcopation. Bridger voiced some of the concerns of a few others when he said, "I don't think Zoom works well for me. I would rather be in class. Being at home makes it really hard to focus. Plus any noise at all switches the camera to that person which is annoying."
This COVID-19 crisis has turned the whole school upside down, and Zoom looks like a possible answer to some of the problems that have come up as a part of that. In fact, the state speech and debate tournament was held over Zoom on the weekend of April 17th.
Zoom provides a much-needed relief from social distancing for many students. "I believe we are all physically distancing right now, but socially and intellectually we should connect," said Stauffer.  Seen as an annoyance by some, it is what it is, and right now, it looks like Zoom is the future.