High school Golf Team Gets Simulator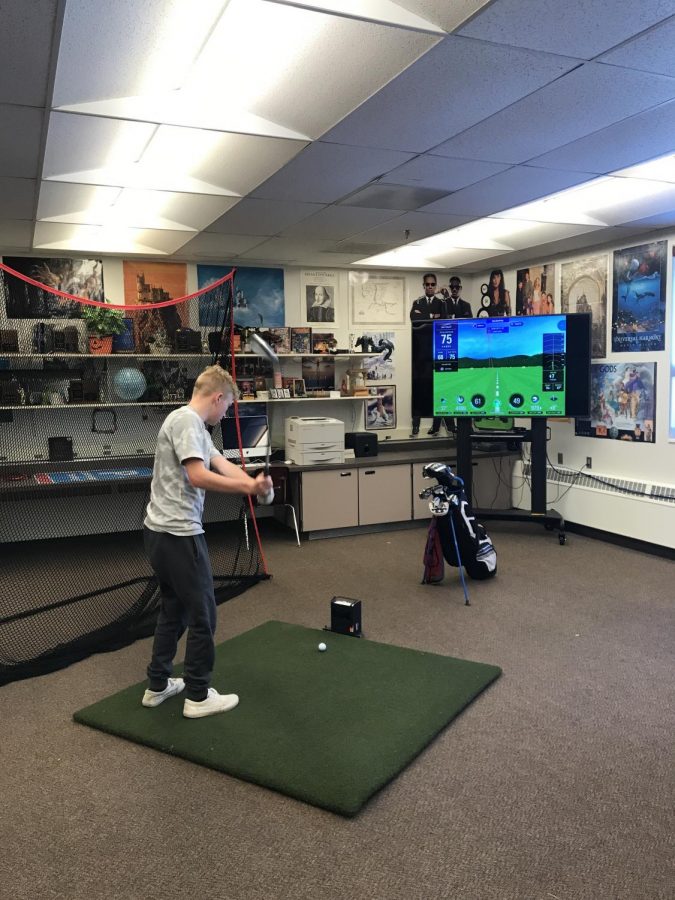 We are all aware of how much snow we get here in Star valley and all this snow can put a lot of things on hold or slow them down. One of those things is golf. It's quite hard to golf in a foot of snow, so the golf team usually has to wait it out for the snow to melt in order to get out and play the course. All of that changed this winter when the golf team purchased a golf simulator. "We bought the simulator early in February with money generously paid to us by Simplot for helping clean up after their annual summer picnic," said head coach Kelly Fullmer.
A golf simulator is a game changer for a golf team. It's about the size of a large Harry Potter book and emits a laser that hits the golf ball set  horizontally from it. A receptor on the simulator analyzes the golf ball from the light reflected back to it and can then project on a screen what your ball flight looks like, its spin rate and speed, club head speed, and many more things that can help the user decide what they need to do in order to improve their swing.
"The biggest obstacle to improvement  is our weather. High school golfers in many states can practice and play year round, but we have a really short window. The simulator provides a viable alternative to playing outside. Its accuracy, ease of use, and realistic display provide much of the needed feedback golfers need to get better or at least keep their skills from getting too rusty over the winter," said Fullmer.
The simulator has yet to find a permanent home at the high school, so Coach Fullmer has set it up after school for some of his golfers to use. All-state golfer and junior Karsen Spaulding said, "The simulator is good for when there is 4 feet of snow on the ground, and you can get the practice you need during winter. I believe it will help my golf season out a ton."
During the Covid-19 school closures , students have been unable to make use of the team's new toy, but they kept it busy during the month prior. "I tried to go in  as much as I could when not working or hanging with the boys, but I'd say 8-10 hours a week. Ive had a few friends from the golf team come in like Brandon Edwards and Tanner Thomas, and they've really enjoyed hitting into it as well," said Spaulding.
Apart from being able to analyze swings, the technology also enables golfers to do it all while playing on some of the world's best golf courses, virtually. Eighteen holes of golf  before the snow melts off really helps golfers tune in and get ready to go as soon as the snow is gone. With this new equipment on their side, the golf team should be up and ready to go this upcoming golf season.