Students Express Gratitude as Holiday Season Arrives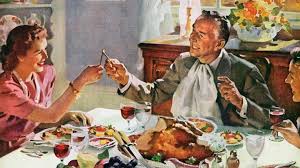 Peter Visser, staff writer
December 2, 2019
Hang on for a minute...we're trying to find some more stories you might like.
As the month of November came to an end, it was easy to get caught up in the festivities. What seemed  like an endless barrage of dining with family and watching football ended with students taking time to reflect on what they have been blessed with in their lives.
"I'm thankful for friends that put up with dorks like me," said senior Spencer Veigel. Likewise, junior Connor Buchanan expressed his gratuity towards friends and family. "I love everything my friends and family do for me;  it's hard to express in words how grateful I am for them," said Buchannan.
"I'm grateful for the opportunity to live in a great place like Star Valley," reflected junior Deegan Foley. "I also feel blessed to be born in the USA."
Thanksgiving, which became a federal holiday in 1863, provides Americans with a chance to think of all of the many things they have been blessed with. "I am most grateful that I have my family to spend the holidays with," said junior Jacie Angell.
"I'm grateful for food and the fact that I still to use my parent's money to pay for it," said senior Kamryn Johnson. Whether its family or the fact that a family pays for your food, anyone can find something to be grateful for this holiday season.
On the other hand, one anonymous student  Scrooge expressed his dislike for the holiday season. "I don't like the holidays because I don't like how it conforms to society. It's basically socialism, and don't like giving things to people. The only thing worse than giving a gift is getting a gift because that means you have to give one back." Not everyone is a fan of the holidays, apparently.
"This holiday season I'm most thankful for having my friends and family with me and being in good health," expressed junior Emily Strasburg, further cementing the idea that the holiday season brings about many things to be grateful for.
Whether its friends, family, good food, or a place to live, almost everybody can find something to be grateful for during the holiday season. When the first pilgrims arrived on the Mayflower and began the tradition of celebrating the giving of thanks, who would have known that it would evolve into such a big shindig? Giving thanks is a small thing that can have a massive effect. Remember to give thanks this holiday season.