Lady Braves Begin State Bid in Casper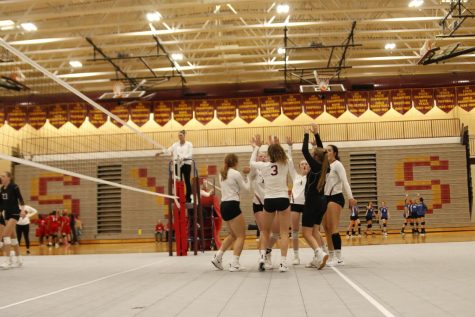 Brierly Battleson, staff writer
November 7, 2019
Hang on for a minute...we're trying to find some more stories you might like.
As the regular season for volleyball ends, the Lady Braves will take their third  place at the 4A Regional Tournament and look to carry that momentum into state.
Although the Lady Braves were going for a 1 or 2 seed at state, they are feeling good with 3rd. "We wanted first or second in regionals, but third could and hopefully will benefit us. With an upset on the other side, if we got second we would be playing Thunder Basin, and I'd much rather be playing Laramie," said junior McKenna Brog.
With third place the girls will take the drive over to Casper, Wyoming and compete for the last time this year for what they have been working so hard for: A state championship trophy. The Lady Braves will start off playing the Lady Plainsman of Laramie. After playing them last year in the state tournament and losing, the Lady Braves are nervous but excited. "It's payback time. I'm really excited because I know we can beat them and want them to know that we can beat them," said senior captain Otessa Olsen.
The Lady Braves will enter the state tournament after a week where many girls were sick and unable to make it to practice. Coach Peterson worries about the girls chemistry and health this weekend but knows that his bench is deep. "I have girls who can come in and serve for me and do a good job and others who can come hit or set for me. My bench is good, I have some talented girls," said Peterson.
Another drawback comes with injuries. Addie Butler is coming back from an ankle injure and Mia Hutchison is still recovering from a knee injury— both occured in the game against Jackson but will be back  and excited for state. "I'm always nervous to play on it [ankle]! I mostly don't want to re-injure it for basketball! I'm just hoping to play strong and not have any ankle complications," said Butler.
The team will begin their to win a state title on Thursday at 7:30 against Laramie at the Casper Event Center.