Students Hit Hills to Hunt, Relax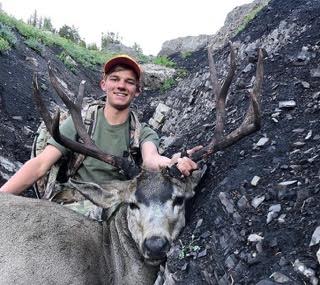 Branden McDonald, staff writer
November 7, 2019
Hang on for a minute...we're trying to find some more stories you might like.
For many people getting out and going hunting is a great way to get away from the world. Some do it all for the sport, but most do it because of the challenge and the reward of getting an animal. This year 144 kids missed school on the day of deer season opener, about 18% of the school!
Many students love to hunt and so do many teachers. Skipping school is just a side benefit to hunting for some students. "I get to skip school every year for the opener of elk and deer," said Brown. Greg killed a really nice buck that scored 183 1/4. According to the website Monster Muleys, the biggest mule deer ever killed in Wyoming scored 262 1/8.
This year deer populations are down due to a very brisk and deep snow winter, but that didn't stop senior Cole Thomas from killing an absolute pig. "I stayed over night on the mountain for the deer opener and it was well worth it," said Thomas.
Sophomore Kysen Hebdon got in on the killing on the 17th of September when he bagged a nice 3×4. "It was a really hard pack out being 4 miles back, but it was well worth it to get a nice buck and make a lot of memories with Jaaron and Phoenix," said Hebdon.
Hunting is a very popular thing in Wyoming and a big thing in star Valley. Whether you get something or not, a bad day of hunting is still better than a good day at school.