Fitness For Life Equates to Fun for All
Hang on for a minute...we're trying to find some more stories you might like.
Do you want to stay fit and have fun while doing it? Fitness for Life is just the thing. Fitness refers to the ability of your body systems to work together efficiently to allow you to be healthy and perform activities of daily living. Staying fit can be fun while promoting strength and health. In this class students golf, bowling, bike, and participate in many more lifetime sports to stay fit for life.
Students in fitness for life enjoy to do the activities Coach Filibi gives them. "My favorite thing to do so far has been to bike and ride around with my friends. It feels like I'm back to my younger self on my little pedal bike, but my teacher has shown us how fun biking can be and how healthy we can stay if we do ride our bikes," said Chase Merrell.
Cole Thomas also enjoys the social aspect of  staying fit for life. "Doing this class with friends like Chase and Greg makes it a good time. My favorite is probably when we just do games," said Thomas.
Filibi ensures that her students stay safe while staying fit, even if they don't appreciate it.  "I love everything but biking its just terrible and hate the helmets. But talking with friends on the long bike rides make it worth it," said Elsie England.
All of the equipment used for the class has been bought, donated, salvaged, or recycled and Filib has to keep track of all of it.  "Biking is my favorite unless you get a bad seat then it hurts your butt so bad. I also like being able to go outside and I'm sad for the winter months then we can't go outside," said Emma Thompson.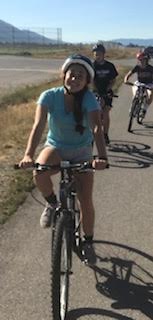 Fitness for life a class thats been at Star Valley High School for at least 30 years. Its fun and it gets in you shape, even if bowling or golfing isn't your thing. "Fitness for life is a good time, I like it all," said Mason Erickson
Filibi, the only teacher for the course, still enjoys it after years of teaching it. "I don't know what I'm doing most of the time but it's fun Filibi is pretty chill you just have to try," said Kale Johnson.
As an elective course, students can take the course any time throughout high school.  "There's not really anything bad about it, but you get what you put in it, and I've always wanted to kick someone out". The fact that she hasn't goes to show how much her students enjoy staying fit for life.