Red Baron Back In Business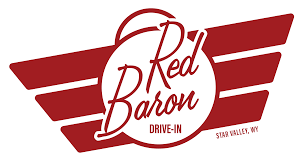 Hang on for a minute...we're trying to find some more stories you might like.
Spring has come and with that comes the opening of one of the valleys many dummer destinations. The Red Baron opened back in 1968 and has been serving Star Valley delicious burgers and shakes ever since. This summer you can stop by to do some of their scheduled events like an eating contest, car show, free ice cream, and free burgers.
The Red Baron is very popular for The Students of Star Valley High School "It's my favorite place to eat during the summer; I really like their shakes and ice cream cones," junior Cael Delgado explained.
The Red Baron recently held a poll regarding the new buns they were using. With the choice between old buns and new the customers chose the old. "I like Red Baron a lot, especially since they went back to their old buns," said junior and regular customer Tony Reyes.