New Mural Adorns Rotunda Wall
Hang on for a minute...we're trying to find some more stories you might like.
If you have walked through through the rotunda recently there is no way you could have missed the new mural being painted by some of the school's most artistic students. The mural is covering what used to be a very plain wall but now bursts with color bringing life to the halls of the school. Under construction since early December, the work is now finally getting finished up.
The students Tiffany Whitby, Laurel Tree, and Emmy Haywood all dropped calculus to paint the mural. As for what the inspiration behind the mural Laurel Tree explained, "It's about how us as students can use our individual talents to kind of shape the world and our future." The biggest challenge of the mural was getting it all to come together and look the best. "We didn't really have a plan; we kind of just jumped in," said Haywood.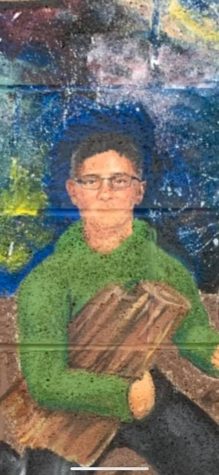 The mural features a world being built by kids. Some kids are artist, some are welders, one is seen using duck tape, and there is even a small kid riding a unicorn; however, there is one special guest on the mural. Ryder Haderlie, who passed away late September of 2018, can now be seen on the mural.
"It's really cool, its nice too see it in the halls when I walk by," said junior Parker Merrit.
Emmy Haywood, the mastermind of the mural, thought it would be a great way to remember Ryder. "He was a great kid and I thought this is the best way I could help the school and his family remember him," said Haywood.  Ryder's sister senior Taylor Haderlie said,  "I am so thankful that people are willing to do such acts for me and my family."
As you pass through the rotunda, it's impossible not to notice this mural and the message it sends.