Winter Roads Causing Havoc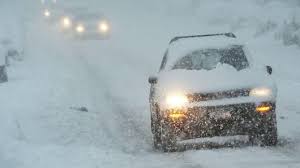 Hang on for a minute...we're trying to find some more stories you might like.
As much as people would like to, there is no escaping icy roads in SV. Snow tires, tow straps, and four-wheel drive are necessities. Without a doubt, experience is the best way to stay on the road. Teens are notorious for being bad drivers. Adding snow and ice to the situation is a recipe for disaster.
This winter is proving to be no different. Former Drivers E.D. teacher Joe Wetzel has seen it all. When asked about a scary experience, he said, "Once a student tried to turn off hwy. 89 into a driveway doing 25 m.p.h..  Thanks to the brake on the instructors side of the car, and a near miss with a fencepost, we were fine." Mr. Wetzel has some very helpful tips. These include: Slow down, slow down, slow down. Be gradual when accelerating and stopping at stop sign/stop light intersections. Greatly reduce your speed when making turns at intersections, especially when turning off Swift Creek Lane into the high school. Since bridges are the first places to develop ice, coast while going over bridges.  This will lessen the chances of skidding and going out of control. Give other vehicles plenty of space, especially snowplows.  Make your following distance further than the usual 3-4 seconds on good roads."
Junior Parker Merritt said, "I'm not a bad driver during winter. I've never even been close to running off the road. Teens suck at driving on ice, especially girls and city kids." His Toyota Fourrunner handles snow very well and is a good vehicle for winter-time traveling.
Senior Carter Brog said, "When it comes to driving in the winter, even though I only drive like once a week, I am pretty much a professional. Running off the road is not even in my vocabulary. Teens SUCK at driving." As a senior, Carter has had his fair share of winter driving and has shown to be skilled at it.
Junior Emma Graham stated, "With my "monster truck" that handles anything, I think of myself to be quite the driver. Snow, ice, or slush doesn't bother me. Bring it on!" Although Graham seems confident in her abilities, her friends will tell you otherwise.
As technology advances the number of teen accidents should decrease, but for now they will continue to struggle. For those who continually have issues with snow and ice, here's one suggestion: MOVE!