FFA Involvement Goes Way Beyond Farm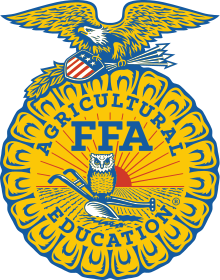 Hang on for a minute...we're trying to find some more stories you might like.
You might think FFA is something where cowboys and rednecks get together to do cowboy and redneck things, but even the casually informed know the club involves much, much more.
First of all, FFA is a year long program. Teacher/FFA Instructor Mr. Dallas Warren said, "We do leadership programs and participate in the county and state fair. One leadership conference we went to was in Buffalo, Wyoming. This fall we went on a few major career development trips: livestock, mechanics, horse vet tech, and meats. In the spring we have public speaking and the state convention. We are also starting an alumni program for parents and/or past FFA members to come participate and support."
FFA provides the opportunity for students to explore and find future careers. Every student who takes a class taught by Mr. Warren is a member of the FFA. Although there are many members, some decide to take it to the next level and are super involved. Among these people are the chapter officers: President Danielle Erickson, VP Ashley Helm, Secretary Marley Carey, Treasurer Raegen Thomason, Sentinel Addison Noble, Parliamentarian Katie Vigil, and Reporter Kristen Raker.
Members of the FFA love it and have tremendous pride for the things they do. President Danielle Erickson said, "My favorite part of the FFA is the FFA Leadership Camp that is provided to the kids in Wyoming. We spend a week in the mountains, no distractions, just working with each other, making new friends, and learning priceless skills. I love it!"
Erickson is one of many who experience these feelings. Erickson said, "Since FFA is a year-Round activity, our State Convention, as we call it, is in April. Often times it falls on Spring Break. This last year the 2018 FFA State Convention was held on April 18-21, 2018. I personally really enjoyed state, and I know several other kids from all over the state did as well. State is a time where we compete against each other and then come together each night for a wonderful few hours of inspiration speeches, awards, the announcement of our new Wyoming State Officers, and the retirement of our old Wyoming State Officers. Everyone is there to be an FFA member and do what they love. It's an incredible feeling…"
As you can see, FFA goes well beyond the farm. Members of it enjoy all the things that FFA includes and take advantage of learning valuable life skills early in life. Next time you are thinking about doing an extra-curricular activity, FFA will always have room for students motivated to improve themselves.