Grinch, Again? Really?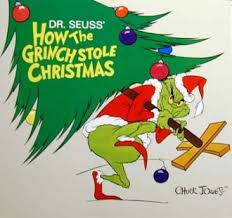 Hang on for a minute...we're trying to find some more stories you might like.
The tale as old of time is, of course, the story of How the Grinch Stole Christmas. Everyone remembers the original cartoon that gave us all nightmares as kids. Some of us proudly support the live action Jim Carry version of the grinch and support it with our whole hearts. So imagine our surprise when the "new" Grinch commericals started popping up while we watched ESPN. Haven't they made enough of the same movies at this point? Apparently not.
In the original movie, the Grinch is a mean, vindictive jerk. There really isn't a better way to describe him. He makes his hate known to everyone who will notice. In this movie, the grinch doesn't have a tragic backstory or a  reason to hate Christmas. His heart is just simply "two sizes too small" which is a pretty good excuse to be nasty. He continues his master scheme to steal Christmas and does it wonderfully. He is about to dump the load of presents off the top of the mountain when he hears to Who's singing. They are ok without all of their stuff because it's Christmas. This of course causes his heart to swell to a normal size, and he returns Christmas and becomes the guest of honor.
The live action Jim Carry version is different because they decide that the Grinch HAS to have a reason for being nasty. His heart can't just be "too small." This movie gives us countless reasons to laugh our heads off because the grinch becomes more relatable. Some argue the best line in the movie is when he says, "hmmmm dinner with myself… I can't cancel that again." This Grinch doesn't like The Whos because they were very mean to him when he was little. He thinks that they obsess with Christmas and the things that come with it, so he also steals all of their things. Like in the previous movie, he sees them able to be happy without their things, and his heart swells. He comes then becomes the town hero hero, and Christmas is saved.
The new Grinch movie came out this year shocking a lot of people. Do we seriously need ANOTHER remake of the SAME things??? Apparently so. This movie features the Grinch's lonely life with his dog we all know and love. The movie shows the Grinch trying to do everyday things while being extremely grumpy. He goes to the store and does mean things for fun. We soon find out that this new Grinch also needs a tragic backstory to be mean. The story paints him as an orphan with no one to love him during Christmas. Although this is understandably depressing, is it really a good reason to steal away everyone's stuff? No, this is just breaking and entry, as well as theft. Also known as illegal. The new movie continues along the same lines: Cindy Lou shows the Grinch kindness, he sees that he doesn't hate Christmas, he hates being alone, and he brings back everything becoming the loved hero.
Although these movies are the exact same story with different actors and animation, it is still a good story that teaches the true meaning of Christmas. Even if they remake this movie a thousand times, it will always be watched. Especially us, the original watchers of the Grinch. There is no doubt we will always compare them to the first movie either.