Students Honor, Remember Vets with Assembly
Hang on for a minute...we're trying to find some more stories you might like.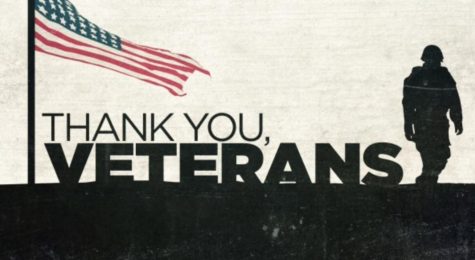 One of the most noticeable attributes of our great nation is its outstanding patriotism. We would not be anything without the brave men and  women who were, and are, willing to serve for our freedom. The definition of a veteran is someone who has had a "long experience in a particular field." The fist time we started acknowledging veterans was right after World War I. Thousands of U.S. soldiers gave their life fighting for America in that war and others that followed.
There are many types of veterans. The first type of veteran is the Military Veteran. These men and women, although completely recognized and celebrated for serving in the army, have never actually served as a soldier, or they have been released from their post and are no longer actively serving. Military veterans are essential to our country's safety, and would without a doubt  go into battle for us whenever called upon. The other type of veteran is a War Veteran. These are the vets that have been in an active war and are recognized for their sacrifice. The third type of veteran is a Combat Veteran. They are known for being in any type of battle and or skirmish, as well as any type of combat. Veterans may be only one of the three types of vets, but often times men and women are a combination of them all.
Star Valley High School has celebrated Veteran's Day for a very long time. It's important to our staff, and school, to take time out of our busy lives so we can recognize the great sacrifices that people have made so we can be free and at school in the first place.
The Veteran's Day assembly this year featured a reading from Mr. Fluckiger, who's grandpa served in the War as a newly wed young man. It was really interesting to hear about some of the things he went through. The stories reminded many of us that our country did not just pop up ready to go. People had to work, and fight, and die, for our country to be as strong and free as it is.
Veterans Day is very important because it recognizes how America stays strong.