Brave Cadettes End Season with Review
Hang on for a minute...we're trying to find some more stories you might like.
The Brave Cadettes started their season in the summer, practicing two days a week, two hours a practice. During their season, in addition to performing at basketball and football games, they performed for the high school and elementary schools and continued to practice at least 4 days a week.
The cadettes recently went to their annual state competition and took second place in both their jazz and hip hop routines. They will be finishing their season with a review of their dances on March 29th with auditions following shortly after.
It is clear to see that our dancers are dedicated and put an outstanding amount of hours in to perfecting their routines and drills.
Kim Dockstader
Q- What do you like about the Brave Cadets as a fan?
A- I am appreciative of their couples dance moves and the fact that they always dress modestly and appropriately. I also love how precise they are.
Makenna Norman
Q- What do you like about the Brave cadets as a fan?
A- How they are all put together and sophisticated.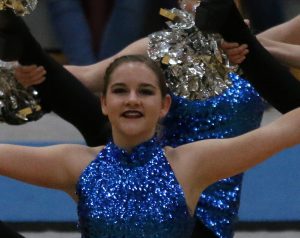 Reese Fullmer
Q- What is the best part of being a Brave Cadet?
A- Dancing! And getting to hang out with girls who love it as much as I do.
Q- What is your favorite dance and why?
A- I like our jazz routines because they are technical and demanding.
Q- When did you grow the most as a person?
A- During the long practices when I felt like sleeping instead.