District Looks to Finalize Next Year's Calendar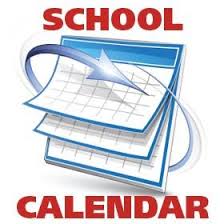 Hang on for a minute...we're trying to find some more stories you might like.
The 2018-19 calendar schedule is in, sort of. Two calendars have been works in progress under district consideration over the last few months. Calendar A has students starting August 22, 2018 and getting out on May 31, 2019. Calendar A has 34 Friday's off. Calendar B starts school off on August 29, 2018 and ends on June 6, 2019. Calendar B has 32 Friday's off.
After a wide vote of district employees, both certified (177) and support staff (93), 130 staff members voted for calendar A while 111 staff members voted for calendar B. The expectation is now that the school board will adopt the winning schedule for next year.
Tory Trufren:
"I would probably choose Calendar B. I would vote for Calendar B because it would be easier to get around."
Stella Burgess:
"I would rather start August 22 and end May 31. I would have voted for Calendar A because long weekends are cool."
Julia Pallon:
"I would rather start August 22 and get out for the summer on May 31. I would have voted for Calendar A because it has more Friday's off. I don't see why it matters. They never ask for our opinions anyway."