SVHS' Policy On Transgender Students Largely Dependent on State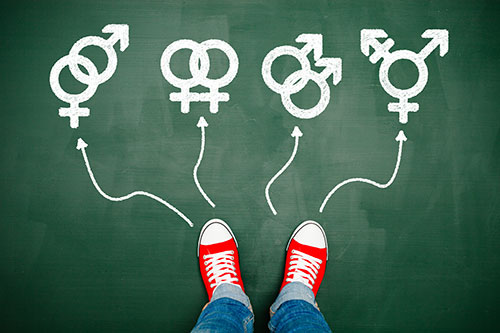 Hang on for a minute...we're trying to find some more stories you might like.
Since we all live in the middle of nowhere in Wyoming, we here at SVHS are a bit behind the times when it comes to what the rest of the country is up to. One of the things that our little community is a little behind with is in acknowledging the existence and needs of transgender individuals.
For those of you who do not know what that means, you have probably been living under a rock for the past couple of years because this word has been everywhere. But for those people, a transgender individual is someone who was assigned one gender at birth, male or female, but later in their life they decided that their assigned gender is not accurate, and they then take measures to change that gender. That can be something as drastic as sexual realignment surgery or something as simple as a change in name and pronouns.
Despite your own personal views on transgender individuals, you have to admit that they are everywhere. While the statistics say that only 0.6% of the adult population in America is transgender, that is still 0.6% of 321.1 million people. That makes one hundred ninety-two million, six hundred and sixty thousand people. And that is not even counting the quickly booming population of transgender teenagers.
Due to the steady growth of this population, lot's of schools all around the nation have had to make new policies on how to balance the needs of transgender students and the needs of other cisgendered students.
So where does our school stand on this issue? I went to Asst. Principal Mr. Hokanson to ask him if he could explain our school's policy is on transgender students.
"I don't know if we have a specific policy. One second."
He then pulled up the student handbook on his computer and began to double check.
"None of our policies are gender specific, so I suppose the only rule would be that the dress code still applies. We always try to revamp our dress code to make sure that it fits, and we realize that standards change as time goes on and we try to accommodate that."
And the fact that the dress code is constantly changing to fit the needs of the students is true. We saw this when the policy regarding hair coloring was changed to better fit the needs of the student body.
So what about gender specific teams? Could a transgender male join the football team? Could a transgender girl join the volleyball team? Where does our school stand on that issue? We asked Mr. Erickson this question, and he provided us with an interesting answer.
"For members of gender specific teams, that is out of the school's hands. That is decided by the Wyoming High School Activity Association, and a student can write a petition to this board for membership on the team."
This policy goes beyond the school and applies to every school in Wyoming. In fact, Wyoming is in the top 16 states when it comes to having a transgender-inclusive athletics policy. Wyoming and 15 other states allow transgender athletes to join gender specific teams by means of a petition, without the need for the student to undergo any physical surgeries. Most other states require the student to either take hormone supplements, have sex-realignment surgery, or deny them access altogether.
However, where does our school stand on perhaps the most infamous and heavily debated subject surrounding transgender students. The bathroom policy.
For those of you who don't know, (again, you must live under a rock) the bathroom policy discussion centers on whether or not transgender students are allowed to use public restrooms that align with their gender identity and not necessarily their physical sex. This policy has generated plenty of heated debate and is currently controlled by the state that the school resides in. So what is our policy?
The answer is, we do not have one. Mr. Erickson answered my questions:
"We don't have a policy for that, currently. We haven't really dealt with it. We at least don't have anything written down. We always try not to discriminate, but we do not have a set policy for this. A lot of the reason we do not have a policy yet is because the state hasn't given any direction. So all of the school's in Wyoming are just waiting right now."
As of right now, Wyoming schools do not have any policy on how to handle one of the most controversial subjects in recent years. Clearly, the wheels of democracy move slowly, and this speed is likely the cause of this delay. Hopefully, we will get our answer soon.