High School Stereotypes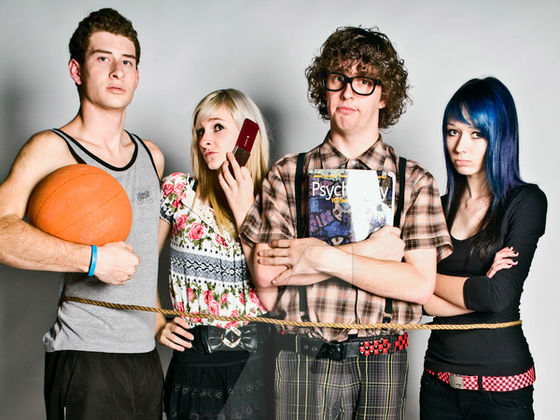 Hang on for a minute...we're trying to find some more stories you might like.
High schools house stereotypes. Even though Star Valley is made up of small towns, this high school has its fair share of them. Lots of people know the common examples: nerds, geeks, popular kids, jocks, stoners, outcasts, fakes, emos, etc., etc.. However, life is rarely this simple.
Statistics say that
"Stereotyping can cause some seriously negative effects on young people(students).  Statistics show that 1 in 7 students grades K-12 have fallen victim to bullying. In the cruel world of high school, that's when the taunts and jeers come in. It's very hard to change the minds of other people once they have a thought about a fellow student."
Stereotypes don't tell us all about a person; they merely reflect a small portion of who he or she is. However, we all probably relate more closely to one group or another. Riley Watkins said, "I believe that I belong to the stereotype of the small-town dumb*** redneck type of thing. I hang with rednecks, stoners, and country boys."
Cameron O'Brian can relate but also socializes across stereotypical boundaries. He said, "I believe that I fit in the redneck category. I hang out with the popular kids on a normal basis."
Another kid from the popular crowd, Liv Cottam, said, "I believe I belong to the popular kids and class clowns. I hang out with Connor O'Brian (jock, class clown), Conner Pebbles (jock), Izzi Zerate (class clown), and Lexi Connelly(nerd, loner).
Emma Parker has musical side. She said,  "I belong to the band geeks (obviously), and I'm an orchard-dork. I hang out with band geeks and loners.
Eli Covitch spreads his company around. He said,  "I belong to the band geeks, jocks, and popular kids (rotunda folks). I hang with band geeks (sometimes), popular kids, and jocks. "
Step up and change. Don't be the typical student and judge someone based on a stereotype. Don't believe the type-hype; get to know someone instead.